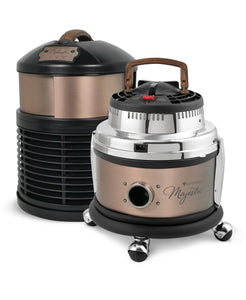 The FilterQueen® Defender® Portable Room Air Purifier uses its proven technology to create a cleaner, healthier home environment that is protected from harmful pollutants such as pollen, mold, bacteria, viruses, pet dander, dust mites, smoke particles, cooking odors, and airborne chemicals, without producing harmful ozone.
FDA registered Class II Medical Device
Lifetime Perpetual Warranty
Built in the USA
Used in hospitals worldwide
Filters 99.99% of particles down to 0.1 micron
Removes hundreds of noxious gases and odors
Effective in small to large rooms
300% better-than-HEPA Filtration
Energy Efficient
Quiet, 24-hour Operation
3-speed Programmable Operation
Simple use. Just plug it in and turn it on and your protected
Does not produce ozone
For over 90 years, FilterQueen® has been focused on setting new standards in clean. The Majestic® Surface Cleaner uses superb filtration to remove 99.98% of dirt and dust down to 0.1 micron (three times better than industry standard HEPA designs). Your floors, carpets and furniture will look better and smell fresher than ever before!
The Last Surface Cleaner You'll Ever Buy
Built in the USA
Advanced Cleaning Ability
Auto-Snap Connections
Low-Profile, Gear-Driven Power Nozzle
Stainless Steel Dome
Original Bagless, Cyclonic-Action System
Built to Last a Lifetime
Extremely Durable, Classic Style
Superior Cleaning Attachments

***Open Box Product***

This product was used as a display model. It has not been powered or used. It has been inspected and is fully functional and includes all original filters.