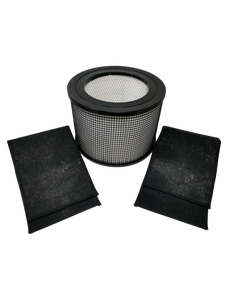 The Defender® Annual Bundle includes one Medi-Filter® Cartridge and two Enviropure® Activated Charcoal filters.
The Medi-Filter® Cartridge should be replaced one per year. It provides three times better-than-HEPA filtration to reduce pollutants such as dust, dust mites, pollen, bacteria mold spores and viruses. 
The Enviropure® Activated Charcoal Filter should be replaced every six months.  It is made with HEGA (High Efficiency Gas Absorption) material, which is highly effective at reducing pollutants such as gases, smoke, pet odors and lingering cooking odors.