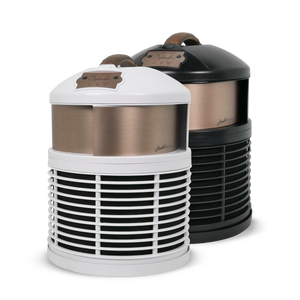 The FilterQueen® Defender® Portable Room Air Purifier uses its proven technology to create a cleaner, healthier home environment that is protected from harmful pollutants such as pollen, mold, bacteria, viruses, pet dander, dust mites, smoke particles, cooking odors, and airborne chemicals, without producing harmful ozone.
FDA registered Class II Medical Device
Lifetime Perpetual Warranty
Built in the USA
Used in hospitals worldwide
Filters 99.99% of particles down to 0.1 micron
Removes hundreds of noxious gases and odors
Effective in small to large rooms
3X better-than-HEPA Filtration
Energy Efficient
Quiet, 24-hour Operation
3-speed Programmable Operation

Certified to ISO Standards




(ISO 9001:2008 and ISO 13485:2003)

Simple use. Just plug it in and turn it on and your house is protected
Does not produce ozone
CLASS II MEDICAL DEVICE
Recognized by the FDA as a Class II Medical Device, the Defender is proven effective through laboratory testing. Air Purifiers for your bedroom couldn't be any easier to move. The portable air cleaner is designed to move from room to room.
QUALITY THAT LASTS
Built in the USA and backed by a Lifetime Perpetual Warranty, the Defender is literally the last Air Purifier you will need. Air Purifiers for Smokers are hard to find because they don't remove the smell. The activated charcoal filter helps remove cigarette odors along with 100s of other toxic chemicals and gases in your home.
3X BETTER THAN HEPA
Most of the pollutants in your home are so tiny that furnace filters, air purifiers, HEPA air filters, and other devices don't capture them. The FilterQueen Defender is different. With filtration that is 300% better than HEPA standards, the Defender captures 99.99% of particles down to 0.1 microns. To put this power capability into an understandable reference, a human hair is 50-70 microns.
***Open Box Product***
This product was used as a display model. It has not been powered or used. It has been inspected and is fully functional and includes all original filters.